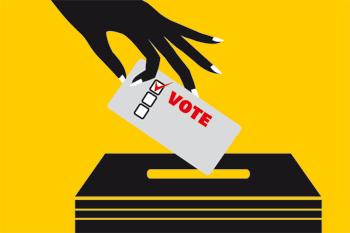 The current electoral system divides the vote for left and centre-left political parties and benefits the Conservative Party, democracy campaigners have found.
The research from the Politics for the Many campaign, using data collated by Democracy Club, has found that England's First Past the Post voting system means that progressive parties are at a disadvantage because there are more of them.
In nearly half of wards (48%), there is one unified 'right' party (the Conservatives) standing candidates against all three of the progressive 'left' parties (Labour/Liberal Democrats/Green).
There are a further 32% of wards where there is one 'right' party (always the Conservatives, apart from one ward in Derby where it is UKIP) standing candidates against two of the largest 'left' parties (either Labour, the Lib Dems or the Greens).
'We've long known that the voting system is a barrier to progressive change. In an age of multi-party politics we're still trying to make our two-party voting system work meaning voters are forced into tactical voting and supporting the "least worst option" to try and game the broken system,' said Nancy Platts, coordinator of the Politics for the Many campaign.
'But in the end we're still often left with warped results that fail to reflect the views of voters. Despite voting for parties to the left of the Conservatives in the last 19 out of 20 General Elections we've seen a Conservative with majorities two-thirds of that time.
'Labour must get serious about electoral reform to overcome the structural advantage our electoral system gives the Conservatives – only then will our politics accurately reflect the interests of ordinary votes.'
In 85% of wards, there are more 'left' parties standing candidates than 'right' parties. The figures reveal that out of around 5,000 council seats up for grabs, there are only eight wards in the whole of England (0.2% of wards) where all three 'right' parties are standing candidates.
There are zero wards where all three 'right' parties are standing candidates and only one 'left' party is standing candidates.