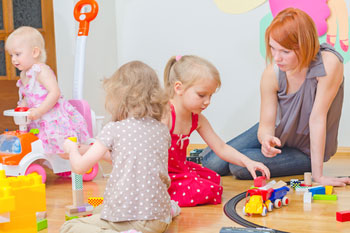 Eight councils are to share £13m funding to help pilot the roll-out of 30 hours free childcare for working parents.
The Government said the councils in Wigan, Staffordshire, Swindon, Portsmouth, Northumberland, York, Newham and Hertfordshire will use the money to provide free childcare for 3-4-year-olds a year earlier than planned.
The councils will also examine how to make childcare as accessible as possible, such as improving provision for special educational needs and disability.
Education secretary Nicky Morgan said: 'For too long, rising childcare costs have been a barrier preventing parents and particularly mothers from working. That's why I'm delighted that in just a few months' time, we will see the first families benefiting from the government's offer of 30 hours' free childcare for working parents.'
The Department for Education will also be piloting a new contract with councils and consulting on a fairer funding formula for the early years to ensure providers are given a fair rate.
The Family and Childcare Trust has previously warned a 'chronic' shortage of council childcare places could put the plans at risk of failing.