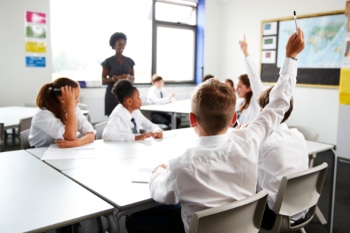 Sir Kevan Collins has resigned as the Government's education recovery commissioner after warning the support announced 'falls far short of what is needed'.
It is understood that Sir Kevan had called for a £15bn funding package to help schools recover from the pandemic.
However, this week the Prime Minister unveiled plans for £1.4bn investment, including 100 million hours of free tuition for children and young people across England.
Writing in The Times, he said: 'The support announced by government so far does not come close to meeting the scale of the challenge and is why I have no option but to resign.
'It is too narrow, too small and will be delivered too slowly. A half-hearted approach risks failing hundreds of thousands of pupils.
Chief Executive of The Children's Society, Mark Russell, said: 'We sincerely hope that today's announced funding is just the start of a full recovery plan for children, but Sir Kevan's resignation is a very worrying sign that the government will fall grossly short of what children desperately need.'
A No 10 spokeswoman said: 'The Government will continue to focus on education recovery and making sure no child is left behind with their learning, with over £3bn committed for catch up so far.'