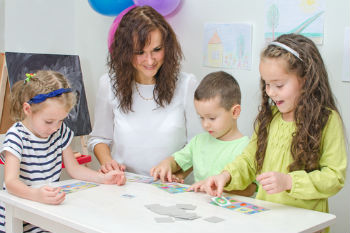 Childcare workers are struggling financially and many are forced to claim state benefits, an education think tank has found.
An analysis of the childcare workforce in England by the Education Policy Institute has revealed a picture of a sector under great strain.
It found that pay is low both in relative and absolute terms. The childcare workforce earned an average hourly pay of £8.20 in 2018 - around 40% less than the average female worker.
The analysis also found that 44.5% of childcare workers, who are predominantly female, claim state benefits or tax credits. This is more than in competing occupations, such as hairdressers and beauticians, as well as the female working population as a whole (34%).
The sector has suffered a pay reduction of nearly 5% in real terms since 2013. Real-terms pay decreases mean that childcare workers' pay was virtually the same as that of hairdressers and beauticians.
The childcare sector is also struggling to recruit qualified carers, according to the EPI's findings.
In 2018, 25.1% of the childcare workers had completed a degree, 36% A levels or equivalent, and 24.4% GCSEs or below. By contrast, around 93% of teachers have a degree or equivalent.
The EPI also discovered that employers were providing their carers with fewer opportunities for training.