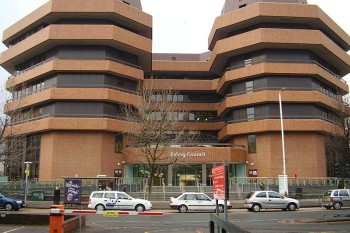 Ealing has become the first council in the UK to introduce a 'safe zone' around an abortion clinic.
The council has approved proposals for a Public Spaces Protection Order (PSPO) around the Marie Stopes clinic on Mattock Lane.
The order, which lasts for three years, was granted after those attending the clinic said they faced harassment and intimidation from protesters outside. groups who positioned themselves outside the clinic.
Richard Bentley, managing director at Marie Stopes UK, called the move a 'landmark decision' for women.
He said: 'This was never about protest it was about small groups of strangers choosing to gather by our entrance gates where they could harass and intimidate women and try to prevent them from accessing healthcare to which they are legally entitled.
'Ealing Council has sent a clear message that this kind of behaviour should not be tolerated, and that these groups have no justification for trying to involve themselves in one of the most personal decisions a woman can make for herself.
'We know other councils have been watching this process and some are exploring similar measures to increase protection outside clinics in their areas. Ultimately, we believe every woman in the UK should be able to access abortion services without harassment and we hope this decision marks the beginning of the end of the harassment these groups undertake nationwide.'