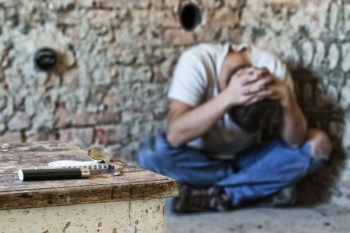 Council chiefs warn that cuts to public health grants are a 'false economy' which make it more difficult to provide support and treatment to drug users.
New figures from the Office for National Statistics show that deaths from drug poisoning rose by 16% across England and Wales last year.
Responding to the figures, Cllr Ian Hudspeth, chairman of the Local Government Association's Community Wellbeing Board, said that the biggest challenge councils face is from older people with addictions.
'The biggest challenge we all face is an ageing cohort of drug users, who have not previously sought or had any treatment,' he said.
'As a result, they are prone to an accumulation of chronic physical and mental health conditions that make them more susceptible to dying through overdose.'
Cllr Hudspeth also stressed that the Government's reduction to councils' public health grants make it difficult for local authorities to provide treatment.
Between 2015/16 and 2019/20, there has been a real terms reduction to councils' public health grants of £700m.
London Councils, a group which represents the capital's boroughs, noted that London was the only region to see a significant increase in drug deaths in 2018 compared to 2017.
Cllr Ray Puddifoot, London Councils' executive member for Health & Care, described this as a 'worrying trend'.
'It's crucial to ensure Londoners receive the information they need to look after their own health and that specialist support is available for those with drug dependency issues,' he said.
Cllr Ray Puddifoot also joined Cllr Hudspeth in warning of the negative impact Whitehall cuts have had on local public health services.
'Boroughs spend over £130m each year on services for treating substance misuse, but there are clear concerns about the impact of reductions to London's public health grant from central Government,' he said.
'London has lost over £60m in public health funding since 2015.
'Investment in public health is an essential part of addressing these rising rates of drug-related deaths.'