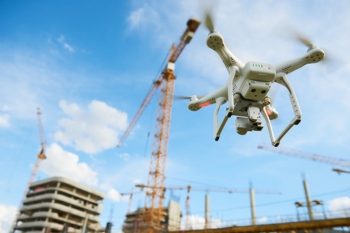 There is a lot of interest in drones at the moment and rightly so. If deployed correctly, there are many uses where drones can increase productivity, deliver cost savings and reduce risk. Like any other enabling technology, introducing drones into a local authority needs careful planning particularly with the added complication of the regulated nature of the aviation industry.
If you're thinking about starting a drone operation within your organisation or looking to scale up an existing operation, here are some of the key aspects of the project that you will need to think through.
Understanding the uses
Drone technology is now extremely sophisticated, and many local authorities don't fully appreciate the wide range of uses where drones could deliver benefits. Local authorities continue to face unprecedented budget cuts resulting in the need to find innovative ways to deliver services more cost effectively. Drones can play a role in helping local authorities realise savings across the broad range of services they have a statutory responsibility to deliver. To maximise the potential of drones, we would suggest identifying potential uses from across the council and prioritising uses based upon the forecast benefits.
Developing the business case
Drones are a data capture tool and it's important to understand what data you want to capture and why. The biggest mistake we see are business cases that focus on the technology rather than on the benefits that can be derived from the technology. Decision makers will want to see a well-balanced business case presenting the uses, costs, benefits, operating model and importantly how the regulatory and safety risks associated with drones will be mitigated.
Covering off the regulatory and compliance requirements
These concerns can kill a drone project before it takes off. There are policies and procedures that need to be developed and adopted covering aviation regulation, local restrictions, health and safety and privacy legislation. A drone operation needs specialist insurance. There are also ongoing requirements to demonstrate operational compliance. Running an in-house drone operation requires skills and protocols that probably aren't part of your everyday business.
Implement incrementally to validate assumptions
We have seen many organisations jump in feet first with full blown projects rather than deploy incrementally to learn and validate assumptions. We would suggest piloting (excuse the pun!) with a couple of uses to start with. Also, we would recommend that organisations initially use external expertise as this facilitates knowledge transfer. The organisation can focus on getting the business change right rather than worrying about obtaining in-house Permission for Commercial Operations (PfCO).
Choosing the right technology
Drone technology is evolving rapidly with ever more sophisticated drones and payload capabilities. There is no point investing in expensive LiDAR (Light Detection and Ranging) technology if the business case doesn't stack up. The jury is still out on whether RTK (Real-Time Kinematic) solutions will replace traditional ground control points. There are a plethora of image and data processing platforms available. Selecting the right platform depends upon the uses and outputs required. Image data processing require significant expertise and it may be better to outsource this part of the workflow.
Managing the change
Like any business change project, deployment of drone technology will have advocates and those that are not so keen. It is important to communicate and engage with staff, partners and potentially the wider public depending upon the uses. Stop any negativity early, create enthusiasm and capitalise on any innovation that may lead to other potential uses.
A copy of the full report on the landscape of drones in local government and more detail on implementing drones with a local authority can be downloaded from https://www.agilio.co.uk/makingdronesworkinlocalgovernment/
Chris Gee is MD of Agilio. Email chris.gee@agilio.co.uk for more information.