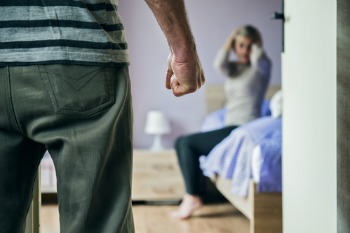 Women suffering domestic abuse are three times more likely than others to develop mental illness, according to a study.
Academics at Birmingham University say that until now there has been confusion whether the mental illness or the abuse came first.
They say their study shows that as well as going on to develop mental health problems, women who are experiencing domestic abuse are also nearly three times more likely to have a history of mental illness.
It also found there is serious under-reporting of the issue, with a huge discrepancy between the abuse reported in GP practices and the national data.
The study, published in the British Journal of Psychiatry, found that in 2017 the reported prevalence of domestic abuse was only 0.5% for women, while the Office for National Statistics estimates it was actually about 25%.
One of the report's authors, Dr Joht Singh Chandan said: 'In our study, we have been able to show the significant burden of mental illness attributable to domestic abuse within the UK.
'Considering how common domestic abuse is, it is important to understand how strongly the two are connected and consider whether there are possible opportunities to improve the lives of women affected by domestic abuse.
'We need a clear public health approach to prevent the violence and abuse of very vulnerable women.'