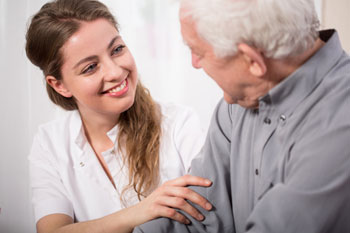 A shortage of district nurses is putting extra pressure on social care services, a charity has found.
A new report from The King's Fund warned district nursing is at risk of crisis due to 'a profound and growing gap' between capacity and demand.
While warning there was a lack of reliable data, the charity said the amount of nursing activity has increased in recent years both in terms of the number of patients seen and the complexity of the care provided.
This increase has accompanied a decrease in the number of nurses working in community health services.
These pressures are 'compromising' the quality of care for some patients and 'over-stretching' services which are also increasingly reliant on staff good-will.
'For years, health service leaders have talked about the importance of providing more care in the community, but this objective cannot be achieved when district nursing is on the edge of crisis and a poverty of national data means the quality of services is not properly monitored,' said policy researcher with The King's Fund Anna Charles.
'It is worrying that the people most likely to be affected by this are often vulnerable and also among those who are most likely to be affected by cuts in social care and voluntary sector services.'
'It is even more troubling that this is happening 'behind closed doors' in people's homes, creating a real danger that serious failures in care could go undetected because they are invisible,' she added.