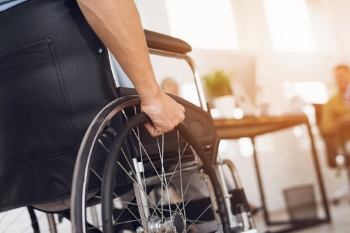 Benefit claimants applying for disability support are waiting around five months on average to be awarded their first payment, financial experts have revealed.
A new study by the Institute for Fiscal Studies (IFS) has found that the median wait time between applying for and receiving disability benefits is now 20 weeks, meaning half of those who apply are forced to wait even longer than this.
The IFS also found that the number of people on disability benefits has been 'steadily rising' – from 2% of the working-age population in the early 1990s (591,000) to 6% in 2020–21 (2.2 million).
The think tank also found that spending on disability benefits has 'markedly increased' despite the Government's efforts to reduce this with the move to personal independence payments (PIP) in 2012.
The introduction of PIPs was intended to reduce spending on disability benefits by 20%. However, spending just prior to the pandemic was around £11bn per year, whereas forecasts from before the reform had expected it to be around £6.5bn.
Tom Waters, a senior research economist at IFS and an author of the paper, said: 'Of those with the lowest material living standards, about a third are both disabled and not getting disability benefits. These people are, compared with other disabled people, disproportionately likely to be single, female, less formally educated, and not in paid work.
'In some cases, they do not receive disability benefits because their condition is not of the sort or severity that the disability benefit system supports. Others will be eligible but not claim – perhaps because they find the application process too difficult. But some will simply be waiting to receive their benefits – median waiting times are now about five months. As recently as 2018, the average wait time was three months.'
Peter Matejic, deputy director of evidence and impact at the Joseph Rowntree Foundation, commented: 'Most people would be shocked to learn people living with serious health conditions are waiting on average five months for life-changing financial support, with half facing longer wait times than this.
'There is clear evidence disabled people face a higher cost of living. Delays this long are likely to have led many to go without essentials like food or basic hygiene in the cost-of-living crisis.
'The majority of the most deprived disabled people are not on disability benefits. Some of this will be due to ineligibility for support or choosing not to apply, but it is also likely that having to wait almost half a year for payments to start will lead to frustrated claimants giving up and not getting the cash they are entitled to.
'A just, compassionate society would not have people living with a disability being more likely to be in poverty than people who aren't disabled. Yet, nearly half of everyone in poverty is either disabled or lives with a disabled person. This shows that the benefits system must fundamentally change, so it properly supports the millions of disabled people in this country.'