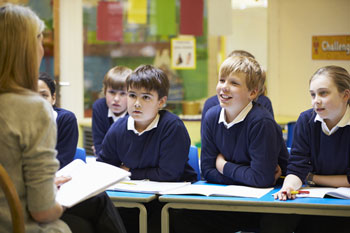 Housing developers will be given loans from the Government to build new schools before new properties are finished.
Developers will be able to borrow up to £20m per school so school places can be delivered up-front rather than waiting for new homes to be built and sold.
The loans, from the department for education, will only be repayable once homes are sold.
Education secretary, Gavin Williamson, said: 'We want to offer parents across the country a good choice of local schools for their children that suits their talents and needs, and we're already on track to create one million new school places nationwide this decade.
'But we know that in some cases, building schools and properties at the same time so they are ready for new communities can be challenging for housing developers. That's why we are launching these loans today, to help parents secure a good school place for their child at the same time as moving into a new family home.'
The move has been welcomed by the County Councils Network but warned the loan amount may not be adequate to cover the cost of delivering new schools.
Cllr David Williams, chairman of the County Councils Network, and leader of Hertfordshire County Council, said: 'Whilst we hope that this pilot scheme is successful, the cost of a new two form of entry primary school typically exceeds £8m and a six form of entry secondary school £30m.
'If subsequently rolled out, Government should, in the longer term, seek to reform the planning system, alongside streamlining infrastructure funding, if we are to deliver the infrastructure needed to serve the needs of future communities.'