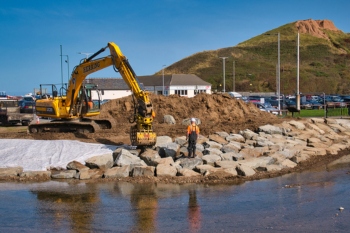 A £2.bn flood protection scheme has exceeded its original targets by 14,000 homes, the Government has announced.
A new report into the results of the six-year programme by Defra shows that since 2015, over 314,000 homes are now better protected from flooding.
The capital investment programme from 2015-2021 has also delivered more than 850 new flood and coastal erosion defence projects, and has protected over 580,000 acres of agricultural land and more than 8,000 kilometres of roads.
The report concluded that this work has reduced national flood risk by an estimated 5%.
Environment secretary, George Eustice, said: 'Our programme of work has protected over 314,000 properties, defending people, communities, and businesses from flooding and coastal erosion.
'We know that there is still more to do, so we are doubling our investment with a record £5.2bn over the next six years.'
The programme's original budget was expanded from £2.3bn to £2.6bn to allow for the extra work to be carried out.