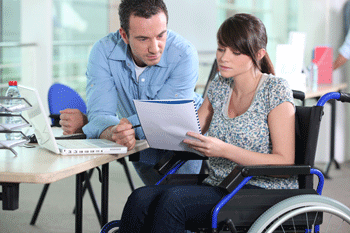 The Department for Work and Pensions (DWP) has limited evidence of what is effective when it comes to supporting disabled people to work, auditors have warned.
Over the last five years, the number of disabled people in work has risen by 930,000 (31%) - not far from the Government's target of one million more disabled people in work from 2017 to 2027.
However, according to a new report from the National Audit Office, this apparent success cannot be linked directly to any specific Government policy or programme.
It is, in part, influenced by broader factors such as more people who are already in work reporting a disability and rising employment rates.
Furthermore, this 31% increase has not been matched by a reduction in the number of disabled people who are out of work. The disability employment gap has only narrowed by 4% since 2015 and is still high at 30%.
The auditor's report found that the DWP does not yet know as much as it could about what works in helping disabled people to get and keep jobs.
It also warned that the DWP had 'missed opportunities' over the years to assess the impact and cost-effectiveness of its programmes, leaving it with limited evidence to support its current efforts.
Despite these criticisms, the NAO acknowledged that the department has renewed its commitment to improving its understanding of this issue and is trialling new approaches.
The auditors welcomed, in particular, a move to change the target-driven culture in job centres and to create a more supportive environment on the front line so that work coaches can provide tailored support to claimants.
'I welcome the Department for Work and Pensions' renewed commitment to focus on improving the culture of its job centres and its evidence base,' said Amyas Morse, head of the NAO.
'But, with that said, given it has been supporting disabled people to work for a long time, it is not beyond reason to expect the department to know "what works" by now and it is disappointing that it does not.
'It has yet to make a significant dent in the number of disabled people who are out of work, some of whom say they would like to work given the right support.'
Responding to the report, a DWP spokesperson said: 'It is encouraging that in the last five years the number of disabled people in work has increased by 930,000, but we of course want to make sure every disabled person who can work, does work.
'That's why we recently announced we are reviewing our goal to see one million more disabled people in work by 2027, and we are working with a wide range of organisations to ensure disabled people receive the best possible employment support.'
Cllr Mark Hawthorne, chairman of the Local Government Association People and Places Board, said that in order to help disabled people into work, 'much more is needed beyond employment support alone.'
'This timely report shows that a locally integrated approach addressing the employment, skills and health gaps is necessary if more people with disabilities are to be supported into the workplace,' he said.
'The Government's Work and Health Programme and the support Work Coaches provide will be critical to addressing these gaps.
'However, ensuring the programme is adequately resourced with trained staff and commissioned locally is vital if we are to support more people with disabilities into the labour market. Where the programme has been devolved already, it is working well.'
'Improving the employability of all our residents will support inclusive growth in local communities and reduce welfare dependency,' he added.