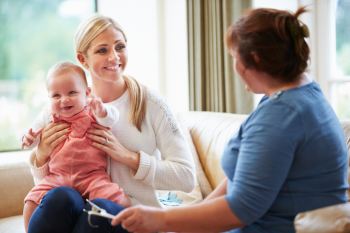 Nearly half of health visitors in England worry a tragedy is waiting to happen where they work due to cuts to public health budgets.
A new survey by the Institute of Health Visiting (iHV) found 48% of health visitors say they are so stretched they are unable to protect vulnerable families properly.
It found a third of health visitors are now responsible for between 500 and over 1,000 children, even though the optimal maximum should only be 250 children.
Dr Cheryll Adams, executive director of iHV, said: 'It is absolutely unacceptable that many families are struggling through the significant demands of early childhood without the vital support that they need and are entitled to through the government's flagship Healthy Child Programme.
'Indeed, the government's pledge to give every child the best start in life has been left in tatters after year-on-year cuts to the public health grant, which have dismantled the health visiting services designed to support them in many areas.'
The iHV is calling for funding for the profession to be ring-fenced, with statutory protection for the health visitor role.
the Local Government Association (LGA) said the findings reinforce its call for long-term sustainable funding for services like children's public health and prevention.
Cllr Ian Hudspeth, chairman of the LGA's Community Wellbeing Board, said: 'Every pound invested by government in council-run services such as public health helps to relieve pressure on other services like the NHS. There cannot be a sustainable NHS without a sustainable public health system.
'Since councils took over responsibility for the public health of those aged 0-5 in 2015, they have done everything they can to provide this vital service, but years of funding reductions mean public health services are struggling to keep pace with the scale of demand.'
Figures show that around one in five health visitors were lost between 2015 and 2019.