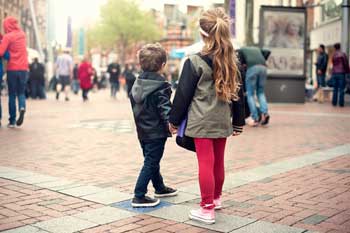 Local authority leaders have warned that cuts to local government funding have made it difficult to tackle child criminal exploitation.
A new survey commissioned by The Children's Society found that more than four out of five parents and carers (84%) are concerned about children being exploited to sell drugs in their local area.
The survey of 2,000 parents, foster parents and legal guardians also found the same proportion (84%) are concerned about children being groomed online by people who want to criminally exploit them.
The charity also discovered that many parents were not knowledgeable about child criminal exploitation and about what to do if they have concerns.
When asked where they thought children were most at risk of being targeted and groomed for criminal exploitation, the most common answers were locations online, with social media (56%), messaging apps (47%) and online gaming (42%) the top three.
However, far fewer parents knew of the risks of young people being targeted in the community at locations like fast food outlets (19%), shopping centres (24%) and at transport hubs and on public transport (18%).
Almost half (46%) say they think the risk of children being criminally exploited has increased in their locality since the start of the pandemic.
Four in 10 parents had not heard of the term child criminal exploitation, which is used to describe the grooming and coercion of children to commit crimes. These can include drug dealing in county lines operations, in which criminal groups exploit young people to carry and sell drugs across the country, but more than a quarter (28%) of parents had not heard of the term county lines.
Mark Russell, chief executive at The Children's Society, said: 'We know any child can be vulnerable to criminal exploitation, including county lines drug dealing, and suffer horrific threats and violence. But we were still taken aback by the numbers of parents who said they were concerned about this happening to children in their local community.
'Exploitation can wreck young lives and put children in enormous danger. Successive lockdowns have left many feeling isolated, struggling with their mental health and worried about everything from the pandemic to family finances.
'Criminals prey on vulnerabilities by grooming young people with offers of cash, gifts, drugs and alcohol, and friendship and status. Since the pandemic we have seen more cases of young people being targeted online in particular.'
'More needs to be done to raise awareness about child criminal exploitation among not just professionals, but parents, children and the wider public too,' he added.
Cllr Anntoinette Bramble, chair of the Local Government Association's (LGA) Children and Young People Board, said that councils were 'working hard to identify and protect those at risk of abuse.'
However, she warned that cuts had hit council services.
'Councils' youth offending teams have an exceptional record of reducing youth crime and making a real difference to young people's lives, but they are under huge pressure after seeing their government funding halved over the last decade,' she said.
'Council-run youth services also have a vital role to play in helping young people avoid being drawn into harmful and dangerous situations. However, these services too have seen funding reduced, by more than two-thirds in real terms since 2010, which means limited funding for prevention work is being diverted into services to protect children who are at immediate risk of harm.'
She also added that Violence Reduction Units needed to be rolled out on a national basis to tackle county lines.
'We want to work with Government to help it understand these pressures and how it can provide appropriate funding for children and youth services to prevent children from being exploited and ensure the right support is available for all young people, whatever their needs,' she concluded.