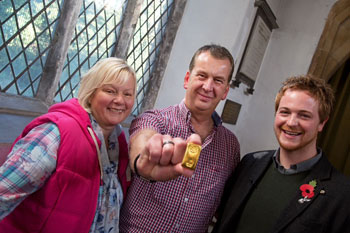 A gold bullion worth £9,000 has been won in a treasure hunt organised to promote local history in Lincolnshire.
The hunt for a 10oz gold bullion was organised by the Lincolnshire Coastal Grazing Marshes Project. Participants were given clues based around local myths and mysteries to unlock a vault containing the gold.
Project officer Joe Blissett said: Without an understanding of what we've got, we're in danger of losing it forever through changes in farming and an increasing population. The prospect of winning the gold bullion has helped us to promote the area's extraordinary history and wonderful natural environment to residents and visitors alike.'
The gold was won by a couple from near Market Rasen, and the riddle download pack will be available free of charge from 3 November.