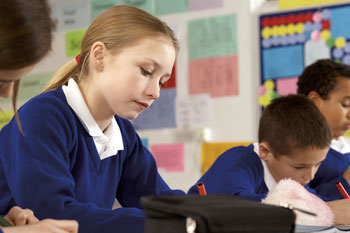 Inspectors have blasted a county for its 'slow' action in improving schools, with thousands of local children being educated at low ranking sites.
Ofsted today warned Suffolk CC had 'not acted quickly or decisively enough' to make suitable improvements following inspections last year.
Some 25,000 local children do not attend a 'good' primary or secondary school, with the attainment of disadvantaged pupils thought to be particularly suffering.
Ofsted said that while some positive steps had been made to support and challenge inadequate schools, work had been undertaken too recently to prevent some sites from 'deteriorating'.
Suffolk has now been granted time to embed its improvement plans before further assessments over the next two years.
Ofsted's east of England regional director, Andrew Cook said: 'While I recognise that Suffolk Council has taken positive steps to improve education in their area, and there are signs for optimism, the county is still not making swift enough progress.
'Much of their strategy has been implemented too recently to impact substantially on pupils' outcomes. Pupils' attainment in Suffolk remains below average, particularly for the most vulnerable and disadvantaged children.'
He added that the town hall had made progress on the use of formal intervention powers and partnership work with other local authorities.
Cllr Lisa Chambers, Suffolk County Council's cabinet member for education and skills, said: 'I have always said our programme for long term improvement will not be accomplished overnight. We take on board the areas for improvement identified in Ofsted's letter. These are all areas we were already aware of and work was already in progress before receipt of Ofsted's letter.
'75% of our schools in Suffolk are classed as good or outstanding and I am determined to continue with our good work so far in raising standards so we can achieve 100%,' she added.