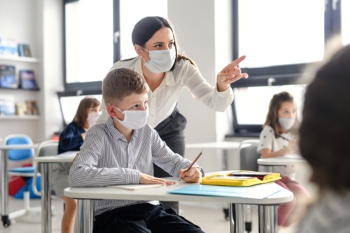 Norfolk County Council has warned it may be forced to prioritise who is given a school place during the new lockdown because of high demand.
The council said it may only be able to offer school places to children if both their parents work in emergency life-saving services due to the number of families requesting critical worker places.
It warned that many schools are facing unique factors during the new lockdown such as more staff off sick and self-isolating, and stricter bubble systems.
Cllr John Fisher, cabinet member for children's services at Norfolk County Council, said: 'Schools are facing huge pressure for places and have limited staff to work in school, due to illness and self-isolation. The restrictions on how classes can be set up are also much stricter with this lockdown.
'Although the national criteria states that only one parent needs to be a keyworker to be eligible for a place, in many schools that would mean nearly every child could still attend and schools simply cannot manage that at this time.'