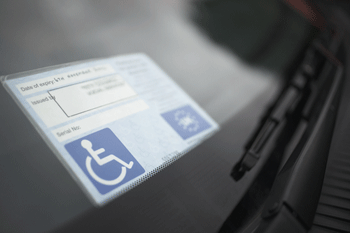 Lancashire County Council has introduced a £10 charge for issuing Blue Badges, making it the final council in England to charge for the service.
The council - which issued more than 27,400 badges between March 2014 and April 2015 - said the move would cover 58% of the scheme. The council is facing £65m spending cuts over the next two years.
Councillor Tony Martin, cabinet member for adult and community services, said: 'We issue more Blue Badges than any other council in the country. Although there will be a charge for this service, it is still great value for money as they provide a range of parking concessions for a three-year period.
'The charge was proposed following a review earlier this financial year. We also made improvements to the scheme which have led to a reduction in waiting times, improved processing times and fewer formal complaints.'
Under new measures, organisations using vehicles to transport people with disabilities affecting their mobility will also be allowed to apply for a Blue Badge.