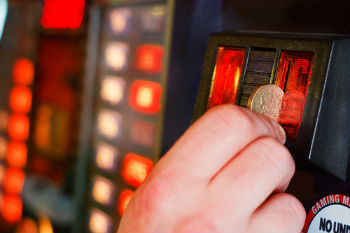 Councils leaders have called for the maximum stakes on gambling machines to be reduced to £2 to protect vulnerable people from harm.
The Government today launched a consultation on reducing the maximum stakes on gambling machines in an effort to prevent large losses.
The 12-week consultation will look at cutting the maximum stakes on Fixed Odds Betting Terminals (FOBTs) from £100 to between £50 and £2.
The Local Government Association (LGA) said it was pushing for the final outcome to be £2.
Cllr Simon Blackburn, chair of the LGA's Safer and Stronger Communities Board, said: 'Not only are £100 maximum stakes significantly out of line with maximum amount that can be waged on other gaming machines, but there is credible evidence that these machines may be particularly addictive and can harm vulnerable players – for example, through spiralling debt - as well as being linked to anti-social behaviour and crime in betting shops.
'However, regulating gaming machines is about more than just stakes, and we urge government to give councils powers to prevent the opening of new betting shops in areas where there are already multiple premises. A new cumulative impact test would give councils the power to veto new bookmakers' in areas already saturated by betting shops.'
Gambling minister Tracey Crouch said the move was to help tackle problem gambling which is damaging to both individuals and communities.
'It is vital that we strike the right balance between socially responsible growth and protecting the most vulnerable, including children, from gambling-related harm,' she said.
'Given the strong evidence and public concerns about the risks of high stakes gaming machines on the high street, we are convinced of the need for action.'
The minister also announced the Gambling Commission will consult on changes to the Licence Conditions and Codes of Practice next year with the aim of raising standards on player protection online.