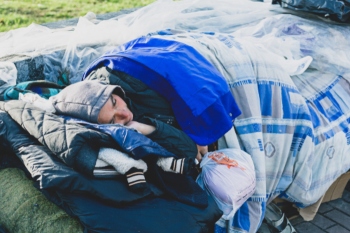 Council leaders have welcomed the drop in the number of rough sleepers, arguing it shows what can be achieved when central and local government work together.
New figures published by the Office for National Statistics (ONS) shows that in 2020, estimated levels of rough sleepers were lower than in previous years.
For the first time, the ONS has started to build a UK-wide picture of rough sleeping. It warns that in the past, different approaches have prevented direct comparison between each country's statistics.
It found that homelessness reached a peak across the UK in 2017 or 2018, falling in 2020 in part due to the emergency support provided during the pandemic.
Cllr David Renard, Local Government Association housing spokesperson, said: 'It is positive that rough sleeping has fallen. This is testament to the efforts of councils, working with government and partners, in getting people sleeping rough off the streets during the pandemic, and into safe and suitable accommodation.
'This has shown what can be achieved when central and local government work together towards a shared goal. Councils want to build on this success and work with government on a cross-departmental homelessness prevention strategy and meet its ambition of ending rough sleeping by the end of this Parliament.'