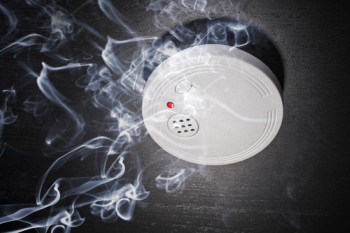 Councils have launched an urgent fire safety drive after figures showed that more than two million homes in England do not have a working smoke alarm.
The figures also show that only a quarter of people who own a smoke alarm test it every month, even though people are eight times more likely to die in a fire in a home without one.
The Local Government Association (LGA) said the autumn poses a greater fire risk due to the use of heaters and open fires, in addition to more people working from home due to the pandemic.
Cllr Ian Stephens, chair of the LGA's Fire Services Management Committee, said: 'Smoke alarm ownership has risen over the years to more than 90 per cent, but this positive trend is being dangerously undermined if people don't check that their alarms are working.
'Many of us are still at home more as a result of the pandemic. The onset of autumn is a timely reminder to anyone without a smoke alarm to buy and fit one as soon as possible and to those already with smoke alarms to test them regularly and change batteries where necessary.'