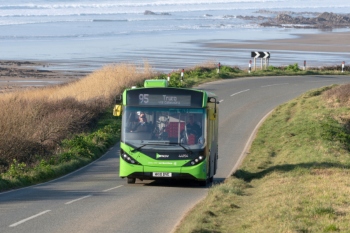 The Government must fully fund the concessionary bus fares scheme if councils are to decarbonise fleets, the Local Government Association (LGA) has warned.
The LGA said investment in bus services is vital if the UK is to meet its net zero goal by 2050 and reduce car journeys.
The LGA said doubling the average occupancy of buses could mean up to 12 fewer car journeys are required for every bus journey.
However, it said the concessionary fares scheme is underfunded by £700m a year, forcing councils to reduce spending on bus services.
Cllr David Renard, transport spokesperson for the LGA, said: 'We need to reduce car journeys and buses have the potential to be the backbone of mass transit provision in this country.
'For years now there has been imbalance in the amount councils are having to pay towards concessionary fares when you consider the number of bus journeys being made, and this was highlighted by the pandemic.
'We are calling for this £700m a year shortfall to be made up to allow councils to put this money to better use in improving bus networks and increasing access to routes and services for residents.'
Figures show bus mileage has declined by 34% in England outside London since 2004/05.
Photo: Peter Titmuss / Shutterstock.com