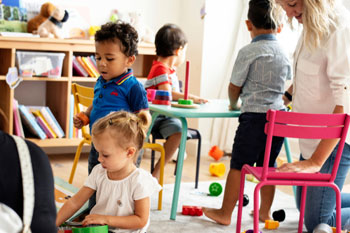 The ombudsman has urged councils to ensure nurseries in their areas really are providing free early years places.
The call comes after the Local Government and Social Care Ombudsman found a nursery chain in Leicestershire was charging parents a 'top-up fee' for 'free' places.
The investigation found Leicestershire County Council did not have sufficient oversight of the way the nursery charged parents when administering the free early years places. This meant the nursery was charging parents the difference between the amount paid by the council and the amount they charged private customers.
Michael King, Local Government and Social Care Ombudsman, said: 'Guidance states that councils should work with providers to ensure invoices are clear, transparent and itemised. Free must mean free, but in this case it was not possible for the man to see how the invoice was calculated or whether his daughter was receiving her entitlement free of charge.
'We are concerned that local authorities may not be delivering on the government's pledge to parents, so I would urge other councils across the country to check their processes to ensure providers in their area are not making the same errors.'
The ombudsman is calling on the council to ensure parents who have been charged a top-up fee get their money back, and ensure all parents receive transparent and itemised invoices and receipts.