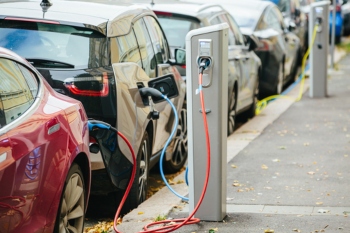 Local authorities are being urged to apply for a share of £20m funding to help increase the number of on-street electric vehicle chargepoints.
The funding - available under the On-Street Residential Chargepoint Scheme (ORCS) for 2021/22 - will cover 75% of the capital costs of procuring and installing the chargepoint and an associated dedicated parking bay if required.
The Government said the £20m could deliver 4,000 more chargepoints, doubling the number available across the UK.
The Energy Saving Trust has been tasked with working with councils to apply for the funding.
Nick Harvey, senior programme manager at Energy Saving Trust, said: 'The confirmation of £20m of funding for the ORCS in 2021/22 is great news. This funding will allow local authorities to install convenient and cost-effective electric vehicle charging infrastructure for those who rely on on-street parking. This helps to support the fair transition to the increased adoption of low carbon transport.
'We're therefore encouraging local authorities to access this funding as part of their plans to decarbonise transport and improve local air quality.'
The AA has previously warned that some councils are using a 'loophole' in the scheme to install charge infrastructure in town centre car parks rather than in residential areas.
Edmund King, AA president, said: 'Good progress is being made but in order to help current and future EV drivers, more charge points will need to be installed. For the 40% of households without designated off-street parking, finding a viable, cheap and simple to use solution, is key.
'However, our own study last year showed that some councils used this grant to only fund charge points in town centre car parks. While car park chargers are important, we feel this goes against the spirit of the grant which is aimed at overcoming tackling the problem of EV drivers without off-street parking.'