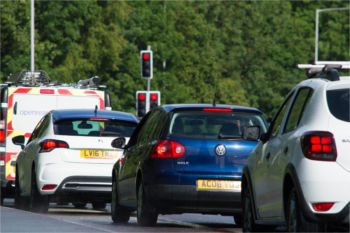 The Department for Transport (DfT) is urging English local authorities outside London to submit expressions of interest for a share of £15m of new funding to repair and upgrade their traffic signals.
The DfT announced last week that £15m extra cash has been allocated to supplement existing local authority spending on the upgrade and maintenance of traffic signals and associated equipment
Its deputy director, traffic and technology, Anthony Ferguson, has now written to the chief executives at 126 highway authorities and combined authorities to invite bids for the cash, which must be spent in 2021-22.
Mr Ferguson said funding in blocks of between £300,000 and £500,000 will be paid out to between 30 and 50 local authorities, 'based on their ability to demonstrate the operation of specific policies and procedures'.
He wrote: 'This funding is being allocated specifically to address the backlog in traffic signal maintenance and upgrading works in English local authorities and cannot be used to replace existing allocated resource but is funding for new work or additional top up to existing programmes.
'The funding will be awarded based on demonstration of need and evidence of authorities understanding of their estate, maintenance priorities and policy vision.'
The Transport Technology Forum (TTF) and the Local Council Roads Innovation Group (LCRIG) are supporting the DfT on this project.
The DfT will be working with LCRIG to collect evidence, with the application process running from next Monday (12 April) to 7 May.
LCRIG said the money will be allocated to authorities that can show evidence of an understanding of needs and priorities, planning for the future, wider targets and a preparedness for future technology opportunities.
The application process is via the LCRIG website. LCRIG said that any councils interested in submitting an application should contact Susanne Ingham at Susanne.ingham@lcrig.org.uk with details of their relevant contacts, who will be provided with login details next week.