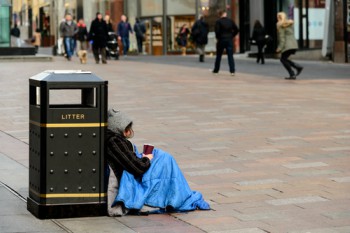 Councils are being urged to bid for a share of £1.9m to help support rough sleepers living with a mental illness or substance abuse problem.
Public Health England (PHE) is awarding the funding to councils to help improve the health of rough sleepers.
This could include enabling specialist substance misuse or mental health workers to run sessions in hostels or day centres, or engaging with people who are sleeping rough at the street level.
Communities secretary, James Brokenshire, said: 'There is evidence rough sleepers often have mental ill health, for example as many as 50% of rough sleepers in London are known to have mental health issues.
'This announcement will help local authorities and the NHS work together to improve access to services for those who have mental ill-health and substance misuse needs – helping them break free of the challenging cycle of health issues and homelessness.'
Figures show that 50% of people sleeping rough in London in 2017-18 had mental health issues, while around four out of ten people had alcohol or drug misuse problems.
Rosanna O'Connor, director of drugs, alcohol, tobacco and justice at PHE, added: 'Without getting the vital help and support they need to look after their health problems, some of the most vulnerable people in our communities face a 'revolving door' situation where they are repeatedly in and out of stable accommodation, while their health deteriorates.
'This funding will enable the testing of models that are effective in breaking this pattern and in helping people to turn their lives around.'
To apply for the funding, email roughsleepinggrant@phe.gov.uk by 5pm on Friday 5 July 2019.