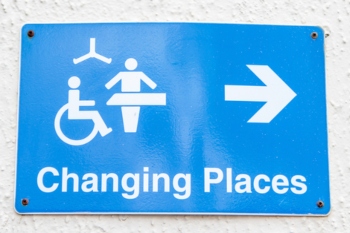 Councils in England will be able to bid for a share of £30m to install Changing Places toilets in existing buildings under new Government funding.
Changing Places toilets are larger than usual accessible toilets and contain equipment such as hoists, adult-sized changing benches and space for carers.
Councils will be invited to 'opt in' to bid for the funding to boost the number of these toilets in buildings such as cinemas, arts and tourism venues, and leisure facilities.
The programme will be delivered in partnership with Muscular Dystrophy UK and is expected to benefit more than a quarter of a million disabled people.
Regional growth minister, Luke Hall, said: 'For too long, the lack of suitable toilet facilities has meant disabled people have faced major difficulties when they shop, go out, or travel and this should not be the case.
'That's why the provision of Changing Places toilets is so important for people who cannot use standard accessible toilets.'
Last year, the Government made it mandatory for all new public buildings to include toilets for severely disabled people.