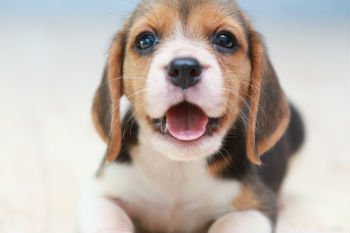 Councils are to be given greater powers to help crack down on irresponsible puppy breeders under tough new licensing rules announced today.
The new laws will include the banning of selling puppies younger than eight weeks old, and anyone selling three or more litters of puppies will have to apply for a formal licence.
Any breeders not sticking to the new rules could face an unlimited fine and up to six months in prison.
Anyone selling pets online will now also need a licence from their local authority, while a single 'animal activities licence' will be introduced for pet shops, boarding houses and riding stables.
Welcoming the plans, Dogs Trust Veterinary Director, Paula Boyden, said: 'We are particularly pleased that it will be illegal to sell a puppy below the age of eight weeks and that there will be tighter licensing rules which will require sellers of pets to display their licence when advertising. We also applaud the move towards a risk based single licensing system which will incorporate those breeders that have gained UKAS approval rather than exempting them.
'We believe that local authority inspectors need support to enforce these tighter licensing rules. As such, moves to mandate the use of Model Conditions and for inspectors to be offered training and standards to be set is most welcome.'