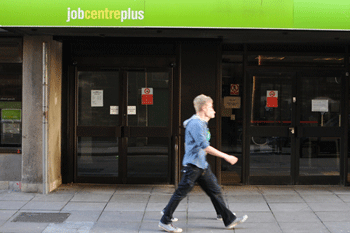 Over a million jobseekers are 'falling through the cracks' of government support, leaving councils to aid those 'forgotten' by national schemes – town halls claim.
The Local Government Association (LGA) today claimed the country's hardest to reach jobseekers -including young people with complex needs - were not receiving any government help into work, forcing councils to 'pick up the pieces' to prevent more vulnerable people slipping into long-term unemployment.
Figures reveal the number of unemployed people failing to claim Jobseeker's Allowance passed one million for the first time in December. The proportion of jobless individuals not claiming benefits in the last 18 months has risen by 28%.
Local authorities are now warning they 'cannot afford' to continue resolving the 'failings' of national support without further funding.
'Unemployment is falling, but the headlines hide the plight of our most vulnerable residents who are falling through the cracks. Too many are let down by national job schemes which are unable to identify or help them because they have not signed on at their local Jobcentre Plus,' LGA chair Cllr David Sparks said:
'It will be our most vulnerable who will suffer unless government commits to devolving nationally-run education, skills and employment schemes to local areas able to join-up and target services so that our vulnerable people are not left behind. This would allow councils to reduce long-term unemployment by a third by the end of the next Parliament.'
A Department for Work and pensions spokesman said: 'The LGA are wrong to suggest that people aren't getting the help they need.
'The truth is that every day our Jobcentre advisers are helping people off benefits and in to work and we now have record numbers of people in jobs.
'Our network of over 700 Jobcentres already work closely with local authorities and organisations on the ground, tailoring support to help as many local people into work as possible.'