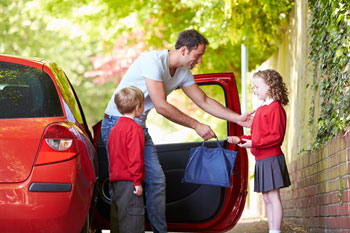 Sustainable transport campaigners have called on local authorities to close the streets outside of schools during the school run to cut dangerous emissions.
A YouGov poll, carried out for the walking and cycling charity Sustrans, surveyed 840 teachers about their attitudes towards air pollution and the actions they think should be taken to improve air quality outside of schools.
More than half (59%) of those surveyed said they wanted the Government to take 'urgent action' to improve air quality near schools.
Nearly two thirds (63%) said they would support a ban on motor vehicles outside the school gates during school drop off and pick up times.
Air pollution is linked to up to 36,000 premature deaths in the UK each year and more than 2,000 schools and nurseries are near to roads with damaging levels of motor emissions.
Just over a third of the survey respondents (34%) thought encouraging more people to walk, scoot and cycle would help reduce toxic fumes, while 28% said better education about the cause and effects of air pollution was required.
Around 26% of the teaching professionals who took part in the survey said they supported school road closures as a measure for improving air quality around schools.
More than one in three (36%) said they need support from parents to enact change on the school run and 27% said they need backing from local authorities.
'For too long now, dangerous levels of air pollution near schools have been ignored. Finally this is starting to change,' said Sustrans CEO Xavier Brice.
'Our survey makes it clear that teachers want urgent action to clean up toxic fumes. They see closing the roads outside their school as an effective solution but need support from local authorities to enact change.
'Across the UK, councillors that care about their young constituents are leading the way by implementing school street closures during the school run, to reduce air pollution and create a safer environment for families to walk and cycle. We want to see more.'