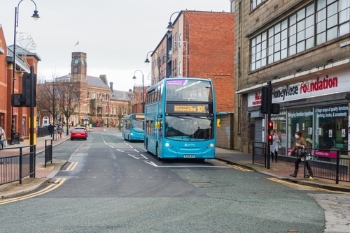 The Government has announced a raft of local transport cash allocations but the news was overshadowed by angry local reactions, notably from South Yorkshire Mayor Dan Jarvis who exclaimed: 'We have been shafted'.
Money for Bus Service Improvement Plans (BSIP), established through the National Bus Strategy, was always likely to cause frustrations as the fund was massively oversubscribed and many of the bidders had recently been given money from other pots. (Full allocations at bottom of the article.)
The Department for Transport (DfT) announced a total of £1.084bn in allocations just below the £1.2bn that was left over after COVID support for the industry.
However, in its flagship 'Bus Back Better' National Bus Strategy, Westminster pledged £3bn to improve service and much of this cash appears to have been spent subsidising services during the pandemic.
Responding to 'the disgraceful announcement that South Yorkshire won't receive a penny in financial support for its transformative Bus Services Improvement Plan', South Yorkshire Mayor Dan Jarvis accused the Government of 'broken promises'.
He said: 'We've been shafted. We submitted a visionary and detailed bid to transform our bus services; we needed central government to put its money where its mouth is and back our ambition. They have once again failed the travelling public in South Yorkshire.
'The Government's so-called commitment to levelling up – which supposedly has buses at its heart – is nothing more than an empty promise.'
To continue reading visit Transport Network.