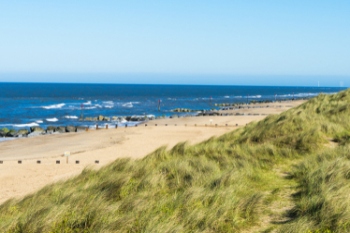 Local authorities are set to benefit from £36m of funding which aims to encourage innovative approaches of adapting to the effects of coastal erosion.
The Coastal Transition Accelerator Programme, which will run to March 2027, will begin by focusing on the East Riding of Yorkshire and North Norfolk.
The local authorities will receive a share of the £36m to trial different approaches to adapting to coastal erosion.
The Environment Agency will manage the programme, supporting both areas as they develop and deliver their local projects. It will also ensure that ongoing learning is shared with other areas facing similar challenges.
'As climate change brings more extreme weather, we must redouble our efforts to build a more resilient nation,' said floods minister Rebecca Pow.
'We have ramped up flood and coastal erosion policies, and we will always defend our coastline where it is sustainable and sensible to do so. Where it isn't we will support communities to adapt.
'What we are announcing today will support innovative solutions to help those areas most vulnerable to coastal erosion to prepare and adapt.' Emma Howard Boyd, chair of the Environment Agency, commented: 'England's coastline has never been static. Today, 9,000 kilometres of open English coast is at risk from sea flooding, erosion and landslips, and by 2100 once-a-century sea level events are set to become annual events.
'As a minimum, we need to plan for at least a metre rise of sea level rise by the end of the century. In some places the pace and scale of change may be so significant that, over a period of time, coastal authorities will need to help local communities transition away from the current shoreline over time.
'This programme is about providing that local support while increasing the whole country's expertise and resilience in the face of climate and coastal change.'