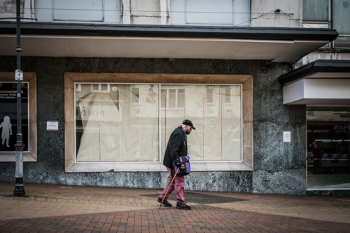 A think tank has accused local authorities of being 'resistant' to measures that could see empty retail spaces repurposed for housing.
A new report by the Centre for Policy Studies (CPS) has revealed that before COVID 25-40% of retail space was no longer viable or needed.
Titled Reshaping Spaces, the report also found that the amount of empty commercial property in the North East and North West was nearly double the amount of London and the South East.
The think tank argues that some local authorities are 'resistant to redesignating' much of this empty commercial property, which undermines efforts to renew the high street.
According to the CPS, if the retail space that is currently unused was repurposed, it could create at least 500,000 homes. If mixed use regeneration was allowed, 'tens of billions in private finance' could be made available for struggling high streets.
The think tank is proposing that the first part of each council's new local plan should be a commercial assessment of their area's needs, to be completed by the end of 2022.
The CPS also urged the Government to reform the business rates retention scheme. According to the think tank, because the scheme includes empty commercial properties, local authorities are incentivized to keep them empty rather than building homes.
Report author and CPS head of policy, Alex Morton, said: 'There is a real opportunity to boost the levels of homes and encourage mixed use regeneration as part of the current planning reforms. Councils need to take a lead and work with partners to see how their local commercial centres will look and create plans that can help Britain build back better.'
Commenting on the report, Luke Hall, minister of state for Regional Growth and Local Government, said: 'The role of the high street has always evolved and this year it's even more important that we work together to support change and make sure that they are the beating heart of their local community. This can be achieved with high quality housing and leisure in addition to shops and restaurants, all of which is set out in the High Streets Strategy which was published last week.
'This report shows how councils can repurpose retail space to help their town centres become more attractive places to live, work and visit.'
Photo: Matthew Troke / Shutterstock.com