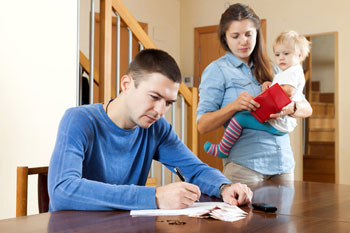 Council tax debt collection tactics are driving people into more debt, charity argues.
A new report from Citizens Advice says the number of people contacting them for help dealing with council tax debt problems has increased by a third since 2013/14.
The report, Catching up: improving council tax arrears collection, said the charity helped people with 196,000 council tax debt problems in England between April 2015 and March 2016, making it the number one debt issue for the charity.
Citizens Advice asked more than 1,000 people with council tax debt about their experience and found 54% said the council's actions made it harder to clear their debts.
71% of respondents said they had extra charges added to their bill and 48% had been visited by a bailiff. Only 30% were offered an affordable repayment plan.
Almost half (46%) of people also said authorities stopped allowing them to pay their council tax by normal monthly instalments and asked for the remaining costs for the year in one go.
One person who contacted the charity for help had a £27 debt which ballooned to £417 after council officials charged fees for obtaining a court order and calling bailiffs.
The report notes some local authorities have introduced better collection practices, such as the use in-house bailiffs who ask debtors about their financial situation.
Gillian Guy, chief executive of Citizens Advice, said: 'Some councils are too quick to crackdown on people falling behind on council tax.
'Of course it's right people should repay their council tax - but calling in bailiffs, adding on extra charges or forcing someone to pay the rest of the year's council tax bill in one lump sum can make the situation worse for everyone.'
'Some councils have developed much fairer approaches to collecting debt and as a result get money back much faster,' Ms Guy continued.
'Even simple steps, like improving communication and offering a realistic repayment plan, can ease the strain on debtors and ensure councils get what they're owed.
'It is really important councils review their debt collection practices to make sure they are helping people to overcome their debt problems rather than making their financial problems worse.'
However, the Reverend Paul Nicolson from Taxpayers Against Poverty, said it was disappointing the report fails to mention DCLG, MOJ or DWP guidance about vulnerable people.
He said: 'The most disappointing part of the CAB report is its bland assumption that the intrinsic unfairness of enforcing a tax against shredded benefit incomes will continue and only needs to be "improved". It must be stopped.'