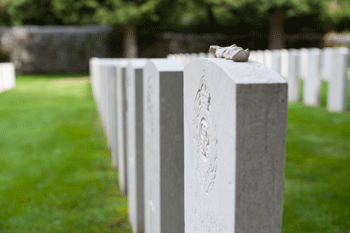 Councils across the country are today leading hundreds of ceremonies to mark 100 years since Britain entered the First World War.
Services of remembrance will be held in Westminster Abbey and Glasgow Cathedral, while members of the royal family and senior politicians from across Europe and the Commonwealth will attend a commemorative event in Belgium.
Many communities will tonight take part in a national 'lights out' campaign, leaving only a single light or candle lit in their homes between 10pm and 11pm to mark the moment Britain entered WW1. On 4 August 1914 Britain declared war on Germany and British foreign secretary Sir Edward Grey commented: 'The lamps are going out all over Europe; we shall not see them lit again in our life-time.'
The conflict lasted for over four years, costing more than 700,000 UK soldiers their lives as well as hundreds of thousands more from the British Empire.
Kent County Council and Prince Harry will today unveil a memorial arch in Folkestone, which will commemorate the millions of people who passed through the town on their way to the frontline.
Local authorities including Surrey County Council and Hereford Council have been running heritage projects to support community-led research into the impact of the conflict.
War memorials have been restored and cleaned by town halls including Reigate-Banstead Borough Council, Wyre Council, Stevenage Borough Council and West Oxfordshire District Council.
Prime minister David Cameron said: 'It is right to remember the extraordinary sacrifice of a generation and we are all indebted to them because their most enduring legacy is our liberty.'
Kent County Council leader Paul Carter said: 'It is right and appropriate that we commemorate the huge sacrifice of those who fought and died.'