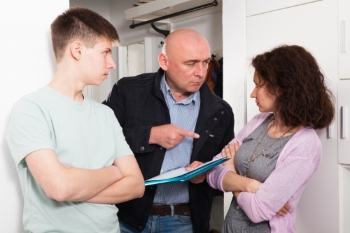 Local authorities do not have the capacity and capability to provide 'appropriate and consistent protection for private renters', MPs warn.
A report published today by the Public Accounts Committee (PAC) found that 13% of rented homes 'pose serious threat to the health and safety of renters' costing the NHS an estimated £340m a year.
It said that renters found it too difficult to access their rights to safe accommodation and when they do, they face the risk of retaliatory eviction.
The report also warned that due to a lack of support from the Department for Levelling Up, Housing and Communities (DLUHC), councils do not have the capacity and capability to provide the support renters require.
'Unsafe conditions, overcrowding, harassment, discrimination, and dodgy evictions are still a huge issue in the private rented sector,' said PAC chair Meg Hillier MP.
'And yet the sector is a growing provider of homes and rents keep rising meaning that safe, suitable housing is too often out of reach for renters. Renters with a problem are faced with a complex and costly redress system which is not fit for purpose and many tenants give up at the first hurdle.
'We need to see a change in balance. We expect DLUHC to produce the promised White Paper in a timely and effective fashion and start to turn around its record on addressing the desperate housing crisis in this country.'
Responding to the report, a spokesperson for the DLUHC said: 'Councils should use the powers we've given them to crack down on rogue landlords, including issuing fines of up to £30,000 and banning those who rent out unsafe homes.
'As part of our mission to improve housing conditions and to give residents the power to hold landlords to account, we'll introduce new legislation to improve the quality and regulation of social housing and explore proposals for a national private landlord register in England.
'We'll also publish a landmark White Paper this spring and consult on introducing a legally binding Decent Homes Standard in the Private Rented Sector for the first time ever.'
Cllr David Renard, housing spokesperson for the LGA, said: 'Councils want all tenants to be able to live in safe and secure, high-quality housing and recognise the need for measures to improve living conditions in the private rented sector (PRS).
'We are pleased that the Committee has backed our call for the Government to ensure councils have the ability to establish landlord licensing schemes, which can deliver significant benefits for both landlords and tenants in the PRS.
'Councils at present lack the flexibility to use licensing to full effect, but the removal of the requirement for Secretary of State approval for larger schemes would allow councils to regulate the PRS more effectively.
'Local authorities would also benefit from better data with a national registration system of all landlords, and adequate funding to develop appropriate responses to the challenging nature and context of the private rented sector.'
Commenting on the PAC report, Dan Wilson Craw, deputy director, Generation Rent, said: 'None of us should have to live in a home that could make us ill, but it can be an uphill struggle for private renters to get landlords to fix anything.
'It's possible to take a landlord to court, or raise a complaint with your letting agent's redress scheme, but the fact that a landlord can evict you without needing a reason puts many tenants off complaining in the first place. As he designs a new tenancy system, Michael Gove must make sure landlords cannot use threats to avoid their responsibilities.
'As well as more secure tenancies, tenants need better support from councils in dealing with negligent landlords, and a national landlord register is an essential part of this. Requiring landlords to register their properties would help to raise awareness of renters' rights, give councils the intelligence they need to enforce the law effectively, and help the government understand what further changes are needed.'