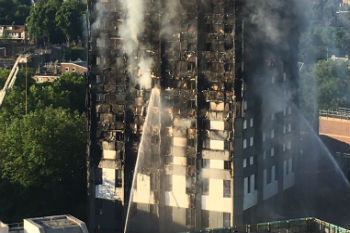 The Government will support councils in taking action against private sector building owners who do not cooperate with councils in ensuring the safety of high-rise buildings from fire, the communities secretary has said.
Sajid Javid wrote to council chief executives on Friday responding to concerns voiced earlier by local authorities that they were in the dark about the safety of privately owned buildings because they did not have access to the relevant information.
Mr Javid reminded councils that councils do have the power to ask landlords to take necessary action to ensure that their buildings are safe and can ultimately carry out any necessary work themselves and then charge the landlord for it.
He said: 'If private sector building owners do not comply with your requests, I will look at what further action can be taken to support you in carrying out your responsibilities.
'It is of course important to highlight that local housing authorities do have enforcement powers, under the Housing Act, to direct landlords to take action, and can ultimately step in to undertake remedial work where necessary, then reclaim the cost from the owner.'
The communities secretary added that if a fire hazard is identified in a building, councils can issue improvement notices or take remedial action, and even fine landlords who do not comply with the directions.
However, on the subject of providing financial assistance to councils for carrying out this remedial work, the DCLG has reiterated its earlier position that it is the building owner's responsibility to make sure that buildings are safe.
Mr Javid said that his department will be following-up with councils to make sure that remedial work is carried out and urged all councils to ensure that this is done.
He said: 'You will know that it is the statutory duty of local housing authorities to keep local housing conditions under review, in relation to housing health and safety.
'I am sure you agree it is of the utmost importance you take active steps to ensure that building owners of residential tower blocks are taking measures to ensure that their residents are safe and feel safe, particularly where buildings have been found to have cladding systems which have failed the combustibility tests.'
But the Local Government Association (LGA) has said that councils simply do not have the funding to carry out this work on high-rise buildings.
The chair of the LGA's safer and stronger communities board, Simon Blackburn, said: 'It is clear that councils cannot afford to carry out this work.
'As a result, we remain firmly of the view that the Government needs to meet the exceptional cost to councils of removing and replacing cladding and insulation on high-rise blocks.'
Mr Javid mentioned that the DCLG is working with the LGA to determine what the costs of carrying out these 'duties' are.
For more on Grenfell read our feature, 'Rising from the Ashes.'