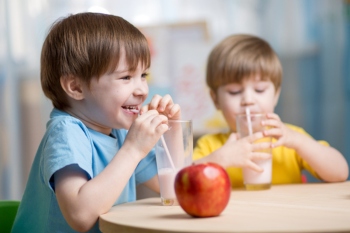 Scottish local authorities will receive up to £12m funding to ensure all eligible pre-schoolers get milk and a healthy snack.
The Scottish Milk and Healthy Snack Scheme will provide children in eligible pre-school settings with fresh milk and a portion of fruit or vegetables.
The Scottish Government will provide local authorities with around £9m to £12m to administer the scheme in the first year.
Cllr Stephen McCabe, COSLA children and young people spokesperson, said: 'The provision of milk and healthy snacks to children is an important part of ensuring that they can get the best from their learning and contributes to their overall health and wellbeing.
'The scheme will provide for children at a crucial stage in their development and we have worked in partnership to ensure that as many children as possible benefit.'