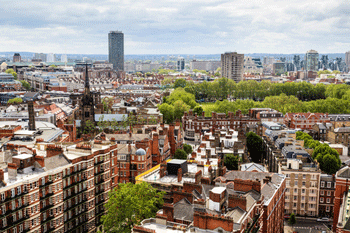 Three councils have predicted they will have to sell as many as 3,500 council homes in five years to fund planned Right to Buy extensions.
A report from the London boroughs of Camden, Haringey and Islington has warned plans to extend discounts on home ownership to 1.3m housing association tenants could have a 'destructive' impact on local authorities.
A central element of the Housing Bill will require town halls to sell expensive vacant council houses to fund the discounts and support construction of more local homes.
Yet the boroughs have warned the sales are unlikely to cover these costs, with replacement homes expected at least two years after properties are sold off.
The councils fear this could leave hundreds of families and homeless households unable to find a tenancy, raise demand on council services from people without somewhere to live and increase rents for private tenants.
Cllr James Murray, Islington Council's executive member for housing, said: 'With Londoners already facing a huge housing crisis, this report shows that forcing councils to sell homes in high-value areas is likely to have a destructive impact right across the capital.
'Thousands of council homes would have to be sold, particularly in inner London boroughs, and the report underlines that there would be a big question mark over the Government's promise that the homes would be replaced. We'll see a fall in the number of council lettings, which in turn will push up private rents even further, particularly in outer London boroughs.
'This report seems to confirm what we feared – that the Government's policy is wrong for London, both socially and economically, and will make our grave housing crisis even worse.'
Communities secretary Greg Clark has vowed that every housing association property sold will be replaced 'one-for-one with a new property', meaning the policy 'is not only allowing people to meet their aspiration but also to increase the housing stock as well'.