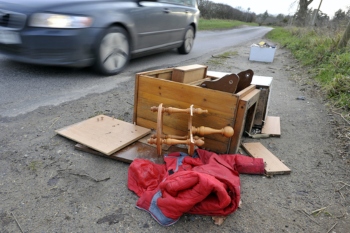 Councils dealt with nearly one million incidents of fly-tipping in 2019/20 at a cost of £50m, the latest figures have shown.
The Government's annual fly-tipping statistics show a 2% rise in incidents, with two-thirds of fly-tips involving household waste.
Keep Britain Tidy is calling for councils to be allowed to keep the income they receive from landfill tax and reforms to the waste carrier licensing system to stop rogue traders exploiting loopholes.
Allison Ogden-Newton, chief executive of Keep Britain Tidy, said: 'Local authorities should get income from the landfill tax which, as things stand, they pay but don't get back. This money would provide investment into a system that is broken, the red flag for this crisis is fly-tipped rubbish devastating communities everywhere.'
The Local Government Association (LGA) is also calling for reforms to help councils tackle fly-tipping.
Cllr David Renard, environment spokesperson for the LGA, said: 'It is good to see a rise in the number of fines issued to the worst offenders in 2019/20. We continue to urge the Government to review sentencing guidelines for fly-tipping, so that offenders are given bigger fines for more serious offences to act as a deterrent.
'Manufacturers should also contribute to the costs to councils of clear up, by providing more take-back services so people can hand in old furniture and mattresses when they buy new ones.'