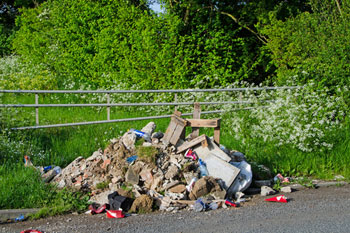 Local authority leaders have called for tougher sentences for people caught illegally dumping rubbish as the latest figures show that councils deal with 20,000 fly-tipping incidents a week.
The latest fly-tipping statistics for England 2019/20 show that local authorities were forced to clear up just under one million (976,000) fly-tipping incidents.
The Local Government Association (LGA) said that councils were working hard to punish those responsible for fly-tipping. They highlighted the fact that the number of court fines issued increased by 30% to 2,671 in the same period and the total value rose to £1,090,000 – a 7% rise on the previous year.
However, the LGA is calling for sentencing guidelines to be reviewed by the Government, so that offenders are given bigger fines for more serious offences.
'Fly-tipping is inexcusable,' said Cllr David Renard, the LGA's environment spokesperson.
'It is not only an eyesore for residents, but a serious public health risk, creating pollution and attracting rats and other vermin. It also costs local taxpayers almost £50m a year to clear up which could be better spent on other vital services in our communities.'
He continued: 'Councils are determined to crack down on the problem. However, prosecuting fly-tippers often requires time-consuming and laborious investigations, with a high threshold of proof.
'With 20,000 incidents of fly-tipping a week, it is time the Government looks at its sentencing guidelines to ensure that those caught and prosecuted for fly-tipping receive significant fines that are recovered quickly to deter them from spoiling our parks, highways and verges again, and to help offset the huge costs to councils.'