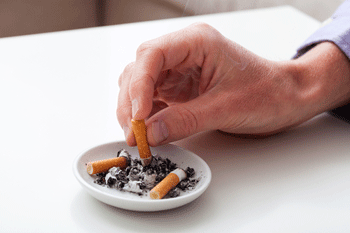 Town hall chiefs are calling for a cash boost to help drive down smoking rates.
A new report warns that councils do not have enough money in their health budgets to deliver schemes the reduce smoking after mandatory services have been paid for.
Tackling tobacco and nicotine dependency, published by the Local Government Association (LGA) warns that it costs £5bn a year to treat health problems associated with smoking. It is calling for councils to receive a fifth of the duty raised on tobacco to help deliver schemes to reduce smoking rates. The LGA says this would create a £2bn fund to help smokers cut down or quit, saving the public purse £11bn a year.
Cllr Izzi Seccombe, chair of the LGA's Community Wellbeing Board, said: 'This extra money would enable them to ramp up their efforts and really focus on prevention, which is the key. For each smoker that is helped to quit, an average of £900 is saved in future treatment costs.
'Additional resources would enable councils to respond to the specific health care needs of their communities in ways that they know will be effective. This means working with key partners like the police and fire services and raising awareness in places like schools, colleges and children's centres.'
The report also calls for councils to work more closely with Customs officers to cut the use of illegal tobacco, and for more preventative work to be done in schools and community settings.