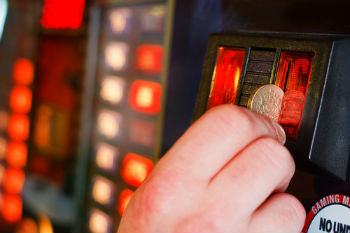 Town hall chiefs are calling on the Government to reduce the maximum stakes on fixed odd betting machines, warning that gamblers can lose up to £18,000 an hour.
The Local Government Association (LGA) argues that the current limit of £100 per spin is too high and wants the maximum stake to be brought in line with other gaming machines, which is £2 on the high street and £5 in casinos.
It also says that councils should have more power to restrict the number of betting shops in their communities, and be allowed to reject applications based on health issues associated with problem gambling.
Cllr Simon Blackburn, chair of the LGA's Safer and Stronger Communities Board, said: 'Councils up and down the country are worried about the number of high stakes FOBTs and betting shops on our high streets, and are frustrated by the lack of powers they have to curb them.
'The higher stakes permitted on FOBTs is significantly out of line with other high street gambling machines and the harm and anti-social behaviour they can cause has become an issue of growing national concern.'
Figures show there are more than 34,000 fixed odds betting machines in the UK, while the number of counselling sessions for problem gamblers has risen by 29% over the past year.
Cllr Blackburn added: 'Councils are not anti-bookies but a new cumulative impact test would give them the power to veto new shops – and FOBTs - in areas already saturated by betting shops.'