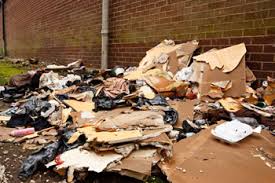 Councils are calling for more powers to hand out 'hard-hitting fines' to fly-tippers as new figures reveal local authorities in England dealt with over one million incidents last year.
The Department for Environment, Food and Rural Affairs (Defra) today released up-to-date statistics on fly-tipping in England which reveal councils were forced to clean up 1,002,000 incidents in 2016/2017 – a 7% increase on the previous year.
Two thirds (67%) of these fly-tipping cases involved household waste -- an 8% increase from 2015/2016 – and the estimated cost to councils of clear-up in was £57.7m.
These figures are based solely on information supplied by councils in England and exclude the majority of private-land incidents. Defra also warn the trends should be 'interpreted with caution' because of improvements in data collection.
Responding to the new figures, Cllr Martin Tett, the Local Government Association's (LGA) environment spokesperson, called for 'more effective' legal measures to deter fly-tipping.
'The Government has responded to our call for councils to be able to apply Fixed Penalty Notices for small scale fly-tipping – and this is a big step in the right direction,' said Cllr Tett.
'When they take offenders to court, councils need a faster and more effective legal system which means fly-tippers are given hard-hitting fines for more serious offences.
'Manufacturers also need to provide more take-back services so people can hand in old furniture and mattresses when they buy new ones.'
The number of fixed penalty notices issued increased by 56% to 56,000 in 2016/17, according to Defra's figures. This is now the second most common enforcement action after investigations, and accounted for 12% of all enforcement actions in 2016/17.
The charity Keep Britain Tidy said the increase in reports of fly-tipping is 'shocking but perhaps not surprising'. Keep Britain Tidy chief executive Allison Ogden-Newton said: 'Enough is enough. It is time to give councils the resources they need to tackle this problem head-on, using some of the proceeds of the landfill tax.
'We also need the people of Britain to stop treating our country like one giant tip, to take responsibility for their unwanted stuff and make sure that, if they give their waste to someone else to dispose of, they are going to dispose of it legally.'
'There is no excuse for fly-tipping, it is illegal and those who do it must be held to account,' she added.