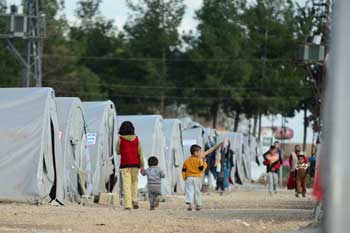 Council leaders have urged the Government to finalise the financial support available to authorities for helping refugees, after reports the first group of Syrian refugees arrived in the UK yesterday.
The first Syrian refugees since the Government announced it would help 20,000 people to escape Syria have arrived in Britain, although there has been no confirmation if these people were already due to move to the country before the scheme was extended.
The Local Government Association (LGA) said while councils across the country have pledged their support for refugees, the Government has yet to clarify how the extra financial burden will be funded.
Cllr David Simmonds, chairman of the LGA's Asylum, Migration and Refugee Task Force, said: 'We need to know who is arriving and when in order to ensure that we have the right homes, school places and other support that may be required. There are a number of issues that need to be urgently resolved, in particular the need for a firm commitment that councils resettling refugees will receive full financial support.'
Last week, home secretary Theresa May said the Government would consider continuing funding for refugees as part of the upcoming spending review.