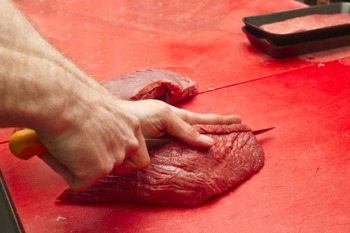 Too many councils are failing to enforce food hygiene standards and London boroughs are among the worst offenders, according to a new study.
An investigation by consumer champion Which? found the poorest performer was Enfield where just 54% of businesses met required standards.
It was among six councils in London languishing in the bottom 10 along with Lewisham, Ealing, Harrow, Camden and Brent. Edinburgh, Perth and Kinross, Birmingham and Falkirk made up the rest.
Cherwell District Council in north Oxfordshire was ranked the best performer for a second year running while Newark and Sherwood was the most improved.
'Our research reveals a shocking postcode lottery on food hygiene where in some places you may as well toss a coin before deciding which restaurant to trust with your health,' said Richard Lloyd, executive director of Which?.
'Consumers expect local authorities to check that food businesses in their area comply with hygiene standards and rigorously enforce the rules.
'Local authorities should do more to make the best use of limited resources, respond effectively to risks across the food supply chain and ensure consumers are adequately protected wherever they live.'
However, Enfield Council hit back at the report, calling the research 'fundamentally flawed' and blasted its conclusions as 'nonsense'.
Cabinet member for environment and community safety, Cllr Chris Bond, said: 'It is ludicrous to suggest, as Which? Magazine are, for example, that local authorities which identify the most shortcomings in their local food businesses are the ones which are failing residents when the reverse is quite clearly true. Under the Which? assessment criteria, the more businesses you close or prosecute for hygiene failings the worse, the job you are doing, that is clearly a ridiculous suggestion.
'We know that our dedicated inspection teams inspect hundreds of premises each year, follow the Food Standards Agency inspection guidelines for food business to the letter and are incredible tough on businesses which are not compliant with food hygiene law. We think that is the right way to protect the public from poor hygiene in food businesses and we will continue to pursue this strategy.'