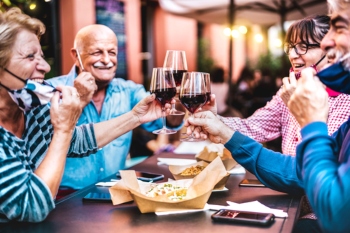 Councils approved requests from businesses for more than 17,000 extra outdoor seats in the past year, new research has discovered.
PwC found businesses submitted 3,366 fast track applications for pavement licences to help offset the impact of social distancing and indoor restrictions on revenues.
Councils approved 2,061 of these applications, with 350 rejected, 490 pending and 11 withdrawn.
Zelf Hussain, retail restructuring partner at PwC, said: 'The take up of these pavement licences shows that for all forms of hospitality businesses, just how much effort they are making to keep going and how every penny counts, especially in times of financial stress.
'The last social distancing restrictions are lifting, but we've seen businesses encouraging customers to keep using their outdoor spaces. Some customers still feel more comfortable being outside, especially during the summer months, helping to allay any lingering concerns about meeting indoors.'
In July, the Government announced plans to make al fresco dining easier to help pubs, restaurants and cafes on the high street recover after the pandemic.