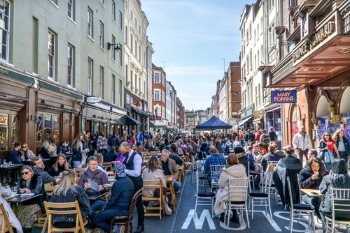 The Government has announced plans to make al fresco dining easier to help pubs, restaurants and cafes on the high street recover after the pandemic.
Business minister Paul Scully today announced the first-ever hospitality strategy launched to support the reopening, recovery and resilience of England's pubs, restaurants, cafes and nightclubs.
Pavement licenses will be extended and made permanent to help high street restaurants and takeaway pints will also continue for another 12 months.
The strategy also sets out measures such as highlighting opportunities in the hospitality industry to jobseekers through DWP's dedicated work coaches and helping the sector address current recruitment challenges.
Mr Scully also said his department was exploring options for vocational skills and training that support careers in the hospitality sector, including apprenticeships, bootcamps and other qualifications like a T-Level.
'The pandemic has meant we've had to stay apart, and this has had a big impact on the hospitality industry, which exists to bring people together,' said Mr Scully.
'We've been working with hospitality businesses throughout the pandemic to understand what support they need to not only reopen, but change and improve how they do things to meet changing consumer demands and protect jobs and livelihoods.
'We want young people to see the hospitality sector as a go-to option for long-term careers, and that's why we will explore new options for vocational training and help further boost the creativity and environmental friendliness of the sector through the first-ever government strategy for the hospitality industry.'
Image: cktravels.com / Shutterstock.com