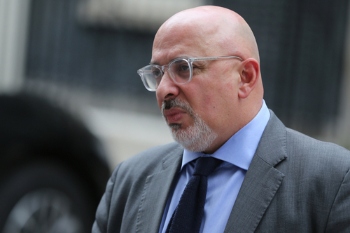 Local authorities and schools have been urged to help Ukrainian children arriving in the UK as refugees to integrate into their adopted communities.
Secretary of state for education Nadhim Zahawi has written to schools and councils with guidance on how to support Ukrainian children in the British educational system, which he stresses is vital for 'helping children integrate into the communities in which they are living.'
Mr Zahawi reminded schools that the Ukrainian government has made the Ukrainian curriculum available but he said that this should only be used to supplement the usual curriculum, which schools should 'continue to prioritise'.
Schools were also reminded that they are responsible for ensuring that all their pupils develop the English language skills they need in order to access the curriculum and achieve their potential.
Both schools and local authorities also have an important role in safeguarding Ukrainian children and young people who attend supplementary schools in the evenings or at weekends, and in other settings, Mr Zahawi noted.
'The UK Government stands with Ukraine and my department continues to work across Government to ensure that all Ukrainian refugees in the UK are offered the same access to high quality education and childcare as UK citizens,' wrote Mr Zahawi.
'Attending education is vital in helping children integrate into the communities in which they are living.'